WM-IIRO-8
16-Channel Wireless Isolated Input Relay Output Module
Features
8 Optically-Isolated, Non-Polarized Digital Inputs with Change-of-State Detection
8 Form C SPDT Electromechanical Relays Can Switch Up to 1 Amp Each
Relays Can be Configured for Level or Pulse Modes
Microcontroller with SRAM and EEPROM
Built-in Watchdog Timer
NEMA4 Enclosure for Harsh Atmospheric, Industrial, or Marine Environments
Ability to Program with Custom Firmware over Wireless Connection
900MHz Wireless Connection (up to 7 miles line-of-sight)
RS-232 (or RS-485) Serial Interface to Host Computer
Designed, made, supported, and manufactured in the USA
FACTORY OPTIONS
OEM Version without NEMA4 Enclosure
Optional Input Only and Relay Only Versions
32K Expanded Memory Version
Custom Firmware for Local Programs & Intelligence

Model WM-IIRO-8 features 8 Form C (SPDT) electromechanical relays and 8 optically isolated digital inputs with change-of-state interrupt generation. The WM-IIRO-8 is an intelligent 8-bit parallel digital I/O unit that communicates with an ACCES Wireless Serial Modem (sold separately) via a 900MHz wireless connection. Up to 255 devices can easily be used with one Wireless Serial Modem which connects to a host computer's standard COM port using RS-232 (or RS-485) serial communications. Both the WM-IIRO-8 and Wireless Serial Modem are packaged in small, rugged, NEMA4 enclosures; perfect for remote installations in harsh atmospheric, industrial, or marine applications. The unit offers a low-cost alternative to costly signal wire installations in applications such as agricultural and irrigation systems, building management and control, security, and factory automation.

ASCII-based command/response protocol permits communication with virtually any computer systems. The unit can operate at distances up to 7 miles line-of-sight (up to 20 with optional antenna). The 8 isolated inputs can be driven by either DC sources of 3-28V (or higher by special order) or AC sources at frequencies of 40Hz to 10kHz and are not polarity sensitive. Input signals are rectified by photocoupler diodes. Unused power dissipates through a 1.8KO resistor. External resistors connected in series with the photocouplers may be used to extend the input voltage range. Each input circuit contains a low-pass switchable filter that has a 4.7 ms time constant to accommodate AC inputs (Without filtering, the response is 10 µs). The filter must be selected for AC inputs in order to eliminate response to zero crossings, however, it is also valuable for use with slow DC signals in a noisy environment. A filter is individually selected when a jumper is installed onto any of the positions 'FILTER 0' thru 'FILTER 7' .

The electromechanical relay outputs may be programmed individually or as an 8-bit byte. These outputs may be latched or pulsed for a prescribed period of time. The relays are de-energized at power-on.

A type 8031 microcontroller (with 8K x 8 SRAM, 8K x 8 non-volatile EEPROM, and a watchdog timer circuit) gives the WM-IIRO-8 the capability and versatility expected from a modern, stand-alone, distributed control system. To accommodate special programs, the RAM and EEPROM can each be expanded to 32K x 8. The built-in watchdog timer resets the pod if the microcontroller hangs up. Data collected by the pod can be stored in local RAM and accessed later through the computer's serial port. This facilitates stand-alone operation.

The module, or pod, address is programmable from 01 to FF hex. Whatever address is assigned to the pod gets stored in EEPROM and used as the default address at the next Power-ON. The use of module addressing allows as many as 255 WM-IIRO-8 units may be connected to a single host computer & wireless serial modem.
APPLICATIONS
Factory Automation
Building Management and Control
Agricultural and Irrigation Systems
Security
Water and Sewage
Marinas and Ports
Lighting
Traffic and Mobile
SOFTWARE
The WM-IIRO-8 is supported for use with virtually any computer and includes a text-based Windows software package. Text programming permits you to write applications in any high-level language that supports ASCII string functions. This package contains a graphical setup program along with sample programs and source code in Visual Basic, Delphi, C++ Builder, and Visual C++. A Windows-based application is included that allows for establishing communication, quick setup and testing of I/O. The program displays all inputs and outputs simultaneously, and allows for one-click operation. Full source code is provided, as well as a number of other samples in a variety of languages to demonstrate techniques for developing custom applications for logic functions, etc. The board can also be used as a stand-alone controller with the help of our Firmware Development Kit.
Downloads
Available Reference Manuals
Available Software Downloads
Drivers and Downloads
Full list of available Downloads: Software Packages, Drivers, Manuals, and other documents
---
Custom Software
ACCES also offers Custom Software Services for our products. Our prices are unbelievably low, often as inexpensive as free! If you need something tweaked to support your needs, or an entire enterprise application developed from scratch, it is definitely worth your time to inquire with us, first.
Further information about available ACCES Software:
A list of ACCES drivers and the files that compose them under different versions of Windows, so you can easily redistribute ACCES cards and drivers.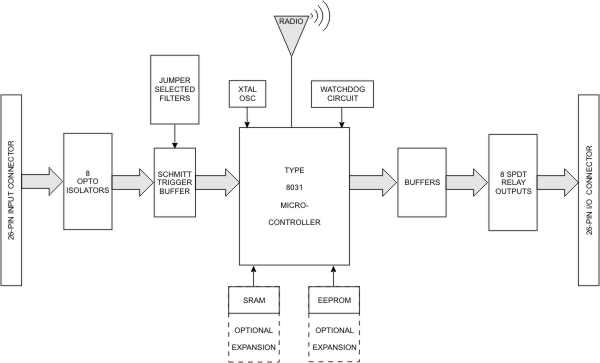 General

Connectivity: A serial cable connects the host computer's COM port with ACCES's WMDP-232 modem, which in turn communicates with the WM-IIRO-8 via a 900 MHz wireless connection.
Intelligence: Type 8051 microcontroller family provides capability of local control.
Protection: Watchdog Timer circuit
Memory: Up to 32k RAM & 32k EEPROM.
Size of NEMA4 box: 4.53" long by 3.54" wide by 2.17" high
Weight: 19.0 oz

Power Requirements

Voltage Range: 7.5 to 15 Volts
Current Range:

130 mA - idle mode
30 mA - increase per relay activation
100 mA - increase during constant transmission
470 mA - maximum
Idle mode may be reduced to 70 mA with cyclic sleep mode

Isolated Inputs

Number: Eight
Type: Non-polarized, optically isolated from each other and from the computer (CMOS compatible)
Logic Input Low: -0.5 V to 0.8 V
Logic Input High: +3.0 V to +33.0 V
Isolation: 60V channel-to-ground or channel-to-channel
Input Resistance: 1.8K ohms in series with two diodes and an LED.
COS Detection: Change-of-state flags can be set (using software) on either the rising or falling edge of any enabled input bit and can be read via the serial port.

Relay Outputs

Number: Eight
Contact Form: SPDT ( form C )
Contact Type: Single Crossbar
Contact Material: Silver + Gold-clad
Rated Load: 0.5 A at 125 VAC; 1 A at 24 VDC
Max. Switching Current: 1 A
Max. Switching Voltage: 125 VAC; 60 VDC
Max. Switching Capacity: 62.5 VA; 30 W
Contact Resistance: 100 mO max.
Operate Time: 5 ms
Release Time: 5 ms
Contact Life (mechanical): 5 million operations

900 MHz Radio

Frequency Range: 902 to 928 MHz, Unlicensed ISM Band
Type: Frequency Hopping Spread Spectrum Transceiver
Throughput: 9600 baud (optional 19200 baud)
Transmit Power: 100mW
Receiver Sensitivity: -110dBm
Outdoor Range: 7 miles ( theoretical with line of sight )
Interference Rejection: 70dB at pager and cellular phone frequencies

900 MHz Antenna

Frequency Range: 902 to 928 MHz
Impedance: 50Ω nominal
Gain: 2.1 dBi
Length: 7"
Polarization: Vertical
Wave: Half Wave
Connector: SMA reverse polarity plug (RPSMA)

Environmental

Operating Temperature: 0°C. to 65°C.
Temperature De-rating: Based on the power applied, maximum operating temperature may have to be de-rated because internal power regulators dissipate some heat.
Storage Temperature: -20°C. to +70°C.
Humidity: 5% to 95% RH non-condensing.

Regulatory Compliance

This product is in full compliance with CE requirements.



| Model | Price (USD) |
| --- | --- |
| WM-IIRO-8 | 439.00 |
| WM-09-DP-232 | 350.00 |