USB3-104-HUB
Rugged, Industrial Grade, 4-Port SuperSpeed USB 3.1 Hub with High-Retention USB Connectors and Extended Temperature Operation
Features
Rugged, industrialized, four-port USB 3.1 hub
USB 3.1 Gen 1 with data transfers up to 5Gbps (USB 2.0 and 1.1 compatible)
Extended temperature (-40°C to +85°C) for industrial/military grade applications
Locking upstream, downstream, and power connectors prevent accidental disconnects, perfect for USB3 Vision applications
Turns one upstream host port into four downstream ports
SuperSpeed (5Gbps), Hi-speed (480Mbps), Full-speed (12Mbps), and Low-speed (1.5Mbps) transfers supported
Supports bus-powered and self-powered modes, accessible via DC power input jack or screw terminals
LED for power, and per port RGB LEDs to indicate overcurrent fault, High-Speed, and SuperSpeed
USB/104 form-factor for OEM embedded applications
OEM version (board only) features PC/104 module size and mounting compatibility
USB connectors feature industrial strength and high-retention design
Small (4″ x 4″ x 1″), low profile, steel enclosure
RoHS compliant
Designed, made, supported, and manufactured in the USA
FACTORY OPTIONS
OEM (board only) version with PC/104 mounting holes and PCB footprint for added flexibility in embedded applications
Economy version equipped with standard, instead of high-retention connectors
High retention screw terminals for external power
Wide input external power accepts from 7VDC to 28VDC at the DC power jack or screw terminals
Tantalum capacitors for flight and space based applications
Conformal coating
The USB3-104-HUB is a high performance, industrial grade, mountable solution for USB expansion. It is a high-speed USB 3.1 device, USB 2.0 and 1.1 compatible. Each of the four downstream ports are capable of SuperSpeed (5Gbps), Hi-Speed (480Mbps), Full-Speed (12Mbps), and Low-Speed (1.5Mbps) data transfers.
This product utilizes a high-performance, low-power USB 3.1 hub controller. It is USB-IF certified, Windows Hardware Quality Lab (WHQL) compliant, and its extended operating temperature is rated for industrial and military grade applications.
The USB3-104-HUB was designed to withstand a variety of environmental conditions such as shock, vibration, and temperature. This hub has latching / locking port connectors on both downstream and upstream ports to prevent accidental disconnects. The small, low profile, steel enclosure allows the device to be installed in numerous locations where multiple USB devices must share a single USB port. The rugged steel enclosure, positive retention connections, and (-40°C to +85°C) operation makes the USB3-104-HUB stand out compared to commercially available USB 3.1 hubs.
Each card has light emitting diodes (LEDs) for status indications. A green LED near the upstream USB type B connector indicates power to the board. Each downstream port indicator lights Green, Blue, or Red, to indicate USB2/HighSpeed, USB3/SuperSpeed, or fault, respectively.
The USB3-104-HUB is fully protected from faulty peripherals connected to its downstream ports. Each port utilizes its own power distribution switch that provides overcurrent and short-circuit protection. If a fault occurs, the power distribution switch will disengage the respective port and illuminate its red fault LED. A fault occurring on one downstream port will not affect other devices attached to the USB-104-HUB's other downstream ports. The disabled port can be re-enabled by clearing the fault and cycling power to the hub.
The USB3-104-HUB supports bus-powered and self-powered applications. Bus-powered mode is a limiting factor as downstream ports take power from the upstream port's remaining available power. If downstream peripherals require more current, the USB3-104-HUB can be configured in self-powered mode. External +5V can be supplied to the card, which will provide 900mA (1200mA max.) to each downstream port. Power can be brought in via the DC locking jack / plug, or an optional 2-position screw terminal.
The USB-104-HUB is designed to be used in rugged industrial environments but is small enough to fit nicely onto any desk or testing station. The board itself is PC/104 sized (3.550 x 3.775 inches, 90mm x 96mm) and ships inside a steel powder-coated enclosure with an anti-skid bottom. Mounting provisions available include a DIN rail and various panel mounting plates.
OEM USB/104 FORM FACTOR
The OEM (board only) version is perfect for a variety of embedded applications. What makes the OEM option unique is that the PCB size and pre-drilled mounting holes match the PC/104 form factor (without the bus connections). This ensures easy installation using standard standoffs inside most enclosures or systems. The board can be added to any PC/104-based stack by connecting it to a USB port usually included on-board with embedded CPU form factors. The USB3-104-HUB OEM board can also be installed using standoffs inside other enclosures or systems.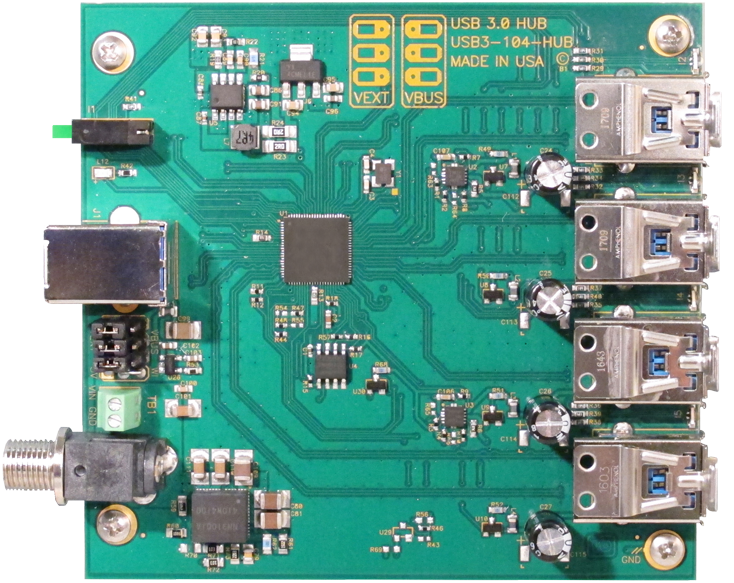 High Retention USB Connectors
The ever-growing presence of USB in the industrial/military marketplace has driven the need for USB connections to be reliable, dependable, and unfailing. Gone are the days of loose USB connections. All type A and type B USB connections used on USB3-104-HUB product feature a high retention, locking design that complies with the class 1, Div II minimum withdrawal requirement. Over 11 pounds of force (50 Newtons), is required to separate the type A connectors. These connectors have a positive locking tab to quickly differentiate it from standard USB connectors. The Type B connection follows the USB3 Vision standard and features a screw lock USB cable to ensure secure connection to the USB3-104-HUB. Using the fastened USB connections on this hub increases reliability in your system and ensures against accidental disconnection.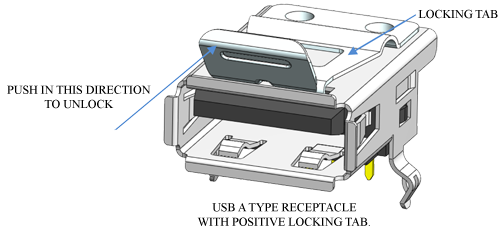 Applications
Military/Mission Critical
Government
Medical
Industrial Automation
Transportation/Automotive
Embedded OEM
Home
Portable
Security
Education
Laboratory
Kiosk
ACCESSORIES
Available accessories include a wide variety of standard USB cables and mounting provisions for quick and easy-to-use, out of the box, connectivity. Mounting provisions include DIN rail and various panel mounting plates. Also, external instrument-grade power supplies are available.
SOFTWARE
No driver installation is required for the USB3-104-HUB product. Any USB compliant operating system will automatically intall it. It will enumerate as a Generic Hub which uses the USB Hub Class Driver that is built into USB compliant operating systems such as Linux (including Mac OS X) and Windows.
Downloads
Available Reference Manuals
Available Software Downloads
Available Datasheets
Drivers and Downloads
Full list of available Downloads: Software Packages, Drivers, Manuals, and other documents
---
Custom Software
ACCES also offers Custom Software Services for our products. Our prices are unbelievably low, often as inexpensive as free! If you need something tweaked to support your needs, or an entire enterprise application developed from scratch, it is definitely worth your time to inquire with us, first.
Further information about available ACCES Software:
A list of ACCES drivers and the files that compose them under different versions of Windows, so you can easily redistribute ACCES cards and drivers.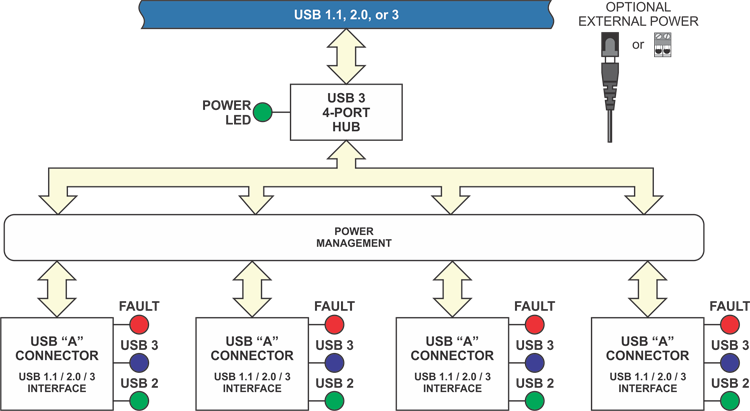 Bus Type
USB 3.1 SuperSpeed, Hi-Speed, Full-Speed, Low-Speed

Super (5Gbps) / Hi (480Mbps) Full (12Mbps) / Low (1.5Mbps)

USB 2.0 Compatible
USB 1.1 Compatible
USB 3.1 vs USB 3.0
USB 3.0 was renamed to "USB 3.1 Gen 1" and operates at up to 5Gbps
USB 3.1 Gen 2 supports 10GGbps
Environmental
Operating Temperature Range: -40°C to +85°C
Storage Temperature Range: -40°C to +85°C
Humidity: 5% - 95%, non-condensing
Board Dimension: 3.550 x 3.775 inches
Box Dimension: 3.985 x 3.990 x 1.045 inches
Weight:

284 grams (in enclosure)
65.8 grams (-OEM board only version)
Connectors
Type A Latching: Retention up to 50 Newtons, Physical shock: Per EIA-364-27 Condition H (11ms 30G), Vibration: Per EIA-364-28D Condition V, Test A
Type B and A: 8 Newtons disconnect non-locking
DC Power Jack (locking)

Vibration: Mil-Std 202G Method 201A
Insulation Resistance: MIL-STD 202G Method 302 Condition B
Thermal Shock: MIL-STD 202G Method 107G
Operating Temperature Rating: -40 °C to +105 °C(-40ºF to +221°F)

DC Power Jack (non-locking): 2.22 Newtons disconnect
Power
No external power required
Optional external power: Connect via screw terminals, a locking DC jack / plug or standard jack / plug
USB 3.1: Up to 480mA at 5VDC required

Bus Powered: Approximately 420mA available from host for downstream ports; typical consumption at idle: 40mA
Externally Powered: 900mA available for each downstream port

USB 2.0: Up to 200mA at 5VDC required

Bus Powered: Approximately 300mA available from host for downstream ports; typical consumption at idle: 40mA
Externally Powered: 900mA available for each downstream port

-WI option: Wide Input power from 7VDC to 28VDC at the DC power jack or screw terminals
The USB 3.1 Gen 1 bus is specified to provide 900mA through the USB cable to most desktop environments. This gives you 420mA available on 5VDC (900mA - 480mA = 420mA) for any particular application. If using more than a total of 900mA, or your USB port has less then the 900mA normally provided, remove VUSB jumper and place jumper on VEXT. You may use two power input options (power jack or screw terminals). See manual for details.
Regulatory Compliance
This product is designed to be in full compliance with CE requirements.
OEM and volume pricing available, please contact us.
| Model | Price (USD) |
| --- | --- |
| USB3-104-HUB | 299.00 |
| USB3-104-HUB-E | 229.00 |
Ordering Guide
USB3-104-HUB
4-Port industrial USB 3.1 hub with locking connectors and rugged enclosure (includes 6' high-quality USB 3.1 locking cable)
USB3-104-HUB-E
Economy version with standard non-latching power and data connections (includes standard 6' high-quality USB 3.1 cable)
Accessories
MP104-DIN
DIN-rail mounting provision $19
PWR-ACDC-5V5A
5V, 5A regulated AC/DC adapter for external power $40
PWR-ACDC-5V5A-L
As above, with locking connector $79
CAB-USB3LL
6-foot high-quality USB 3.1 cable with screw locks on Type A and B ends (call)
Model Options (call for pricing)
-OEM
Board only model, no enclosure
-WI
Wide Input power from 7V to 28VDC
-TAN
Tantalum capacitors for flight and space based applications
-CC
Conformal coating for use in high humidity and dusty environments
If you don't see what you need, ask us and we will make it for you.