PCIe-WDG-CSMA
PCI Express Watchdog Timer Status Monitor
Features
Low Profile PCI Express watchdog timer and computer status monitor card
Open collector transistor output to ground power good line or reset switch via pass through upon timeout
DPDT relay contacts notify external devices when reset signal occurs
2 LVTTL outs & 2 LVTTL inputs (5V tolerant)
DB25 female connector on mounting bracket
RGB LED at mounting bracket provides at-a-glance status information
Onboard speaker
EEPROM for configuration and firmware
Designed, made, supported, and manufactured in the USA
Advanced Model Features
Analog to Digital Converter with integrated temperature and humidity sensors and multiplexed inputs
+12V and +3.3V PCIe Power Monitor
Ambient light sensor
External LM335 temperature sensor
4 Isolated digital inputs accept up to 31VDC
2 Isolated FETs switch from 5 to 34VDC
FACTORY OPTIONS
Industrial operating temperature (-40°C to +85°C)
RoHS Available. Please contact us for ordering information
Low Profile mounting bracket
DESCRIPTION
This multifunction Low Profile x1 PCI Express card contains a watchdog timer used to monitor the operation of your application program and operating system to initiate a system reset in case of a lockup. It can also monitor and control a variety of system hardware parameters. The card is 6.6 inches long and 2.535 inches seated height. I/O wiring connections are via a female DB25 connector on the card mounting bracket. Two models with increasing features are available.
The PCIe-WDG-CSM card contains a watchdog timer and on-card RGB LED and speaker alarm to signal watchdog timeout. A DPDT relay, two LVTTL inputs and two outputs, and fused 3.3V general purpose outputs are accessed via the DB25 female I/O connector on the card mounting bracket.
An advanced model, the PCIe-WDG-CSMA, is also available which includes an A/D converter to monitor the computer power supply, and sensors to monitor the internal temperature and humidity, ambient light, and comes with a remote temperature sensor on a 19" cable. A pair of opto-isolated outputs and four opto-isolated inputs are available for general purpose use.
PCIe-WDG-CSMA: Advanced Feature Pack* Advanced software package multiplies the power of your Watchdog.
Create a customized configuration package and upgrade your PCIe-WDG-CSMA device to:
Protect your computer from common problems that can occur during power-on self test (POST)
Control one or more outputs when input(s) toggle or other Events occur
Schedule output changes to occur periodically or at a specific time
Play WAV files when Events happen, including Growl, Bark, "LVTTL0 falling edge detected", etc.
All features can be configured through either a Windows GUI-based settings program or our flexible AIOWDG.dll API, with settings stored in onboard non-volatile memory.
Options
The PCIe-WDG-CSMA is designed for use in both industrial/commercial and optionally military environments of 0 to +70°C and -40 to +85°C, respectively. Programmable array logic is available on this card and many possibilities exist for special modifications to suit unique requirements.
Software
The PCIe-WDG-CSMA is supported for use in most operating systems and includes a free Windows and Linux (including macOS) compatible software package. This package contains sample programs and source code in C#, Delphi, and Visual C++ for 32-bit and 64-bit Windows. Also provided is a graphical setup program in Windows. Linux support includes installation files and samples for programming from user level via an open source kernel driver. Third party support includes a Windows standard DLL interface usable from the most popular application programs, and includes LabVIEW VIs. Embedded OS support includes the family of Windows Operating Systems including IoT, please contact ACCES for compatibility with your specific OS.
Downloads
Available Reference Manuals
Available Software Downloads
Available Datasheets
Drivers and Downloads
Full list of available Downloads: Software Packages, Drivers, Manuals, and other documents
---
Custom Software
ACCES also offers Custom Software Services for our products. Our prices are unbelievably low, often as inexpensive as free! If you need something tweaked to support your needs, or an entire enterprise application developed from scratch, it is definitely worth your time to inquire with us, first.
Further information about available ACCES Software:
A list of ACCES drivers and the files that compose them under different versions of Windows, so you can easily redistribute ACCES cards and drivers.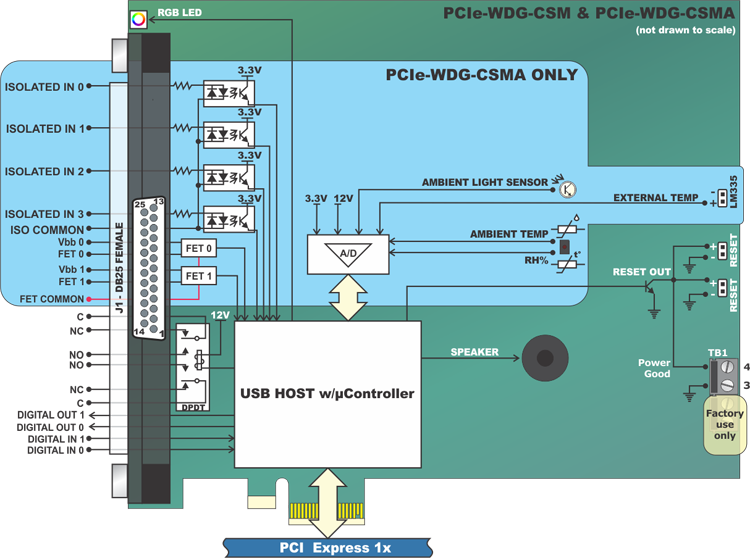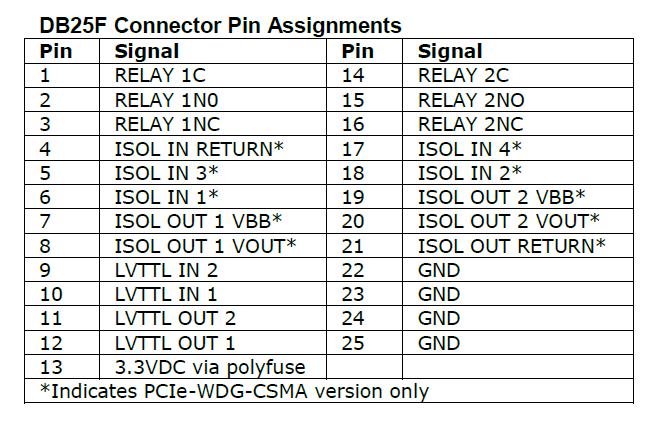 Two Digital Inputs
Pull-up resistors: 10k ohm
Two Digital Outputs
Logic Levels
3.3V
Input Low ≤ 0.8V, ≤1µA
Input High ≥2.0V, ≤1µA
Output Low ≤0.4v, ≤8mA
Output High ≥2.4V, ≤8mA
Relay
Contacts: Dual Form C (DPDT)
Nominal Ratings: 1A, 30VDC, 0.5A 125VAC (resistive)
Reset Output
Open Collector Transistor to ground
Isolated Digital Inputs
Quantity: 4, PC isolated, sharing a common return
Type: Opto-couplers
Voltage Range: 3 to 31 VDC
Isolation: 500V channel-to-ground
Input Resistance: 1.8K ohms in series with opto coupler
Isolated FET Outputs
Quantity: 2, PC isolated, sharing a common return
Output Type: High Side Power MOSFET Switch Protected against short circuit, over-temp., ESD, can drive inductive loads
Voltage Range: 5-34VDC (customer supplied)
Current Rating: 2A maximum
Minimum load: Required
Computer Status Monitor (I²C Interface)
Sensors (2)
Ambient Temperature: -40°C to +125°C ±0.3 - 0.7% typical
Relative Humidity: 0-100% RH, ±3% typical
Analog Inputs (4)
3.3V from PC Supply
12V from PC Supply
Ambient Light Sensor
LM335 Temp Sensor
Environmental
Operating Temp: 0°C to +70°C (optional -40°C to +70°C)
Storage Temp: -55°C to +150°C
Humidity: 5% to 95% RH, non-condensing
Card Dimensions: 6.6 inches length; height 2.535 inches seated
Regulatory Compliance
This product is designed to be in full compliance with CE requirements.

OEM and volume pricing available, please contact us.
| Model | Price (USD) |
| --- | --- |
| PCIe-WDG-CSMA | 249.00 |
| PCIe-WDG-CSM | 195.00 |
Ordering Guide
PCIe-WDG-CSMA
Advanced PCI Express watchdog timer card, all options, monitor voltage, humidity, temperature, light, and more
PCIe-WDG-CSM
Standard PCI Express watchdog timer card
Accessories
ADAP25M
Direct connect screw terminal adaptor for use with 25-pin female connector $50
STB-25
DIN-rail mountable screw terminal board for use with any ACCES card that has a 25-pin mating connector $44
CAB25MF-18
Ribbon cable, male to female 25-pin connectors, 18" $29
CAB25MF-XX
As above except "xx" equals length in inches (add $2 per Ft over 18")
DIN-SNAP(-6)
One foot length SNAP-TRACK with four clips for mounting up to two STB-xx screw terminal boards $20 (6" version also available for $15.00)
Model Options (call for pricing)
-T
Industrial Operating Temperature (-40°C to +70°C)
-L
Low profile bracket installed
-RoHS
RoHS compliant version
-CC
Conformal coating for use in high humidity and dusty environments
If you don't see what you need, ask us and we will make it for you.